FAST Conditioner Trial Size 60ml - SLS FREE
SKU:

FA-SLS60CO

UPC:

MPN:

Weight:

0.07 KGS

Shipping:

Calculated at Checkout
Description
We highly recommend users of FAST to also try the alternative hair growth stimulant - B4R Biotin High Dose Food Supplement. You can purchase B4R Biotin for just £7.99 more (see product options ). B4R Biotin is a super effective hair growth stimulant, 1 tablet typically provides: Biotin 10,000mg. Adults - take 1 tablet per day with water and food.
Grow Hair 99%* Faster With FAST (Fortified Amino Scalp Therapy) Conditioner
If you like the regular sizes of FAST shampoo and conditioner, you will love the large salon sized bottles which come with an easy to use pump dispenser, and a cost saving.
More Than Shampoo - It's Hair Growth Therapy
FAST is a mild but very effective product that boost the rate of hair growth - it makes hair grow faster by feeding the hair with essential nutrients and proteins. Customer feedback is great and if you suffer from slow growing hair, or maybe you need to outgrow a bad haircut FAST, then this is the product for you.
Does it really work?
Yes! FAST works by feeding the hair with essential nutrients, aminos and proteins not found in regular shampoos. 1000s of customers are a testimony to the effectiveness of FAST.This special blend provides essential nutrition to hair, making hair grow as fast and as healthy as possible. Note: FAST will only affect the hair on your head; it will not affect facial or body hair.
Clinical Trial Results:
50% of the subjects in the study witnessed an increased rate of hair growth after 42 days.
A Remarkable 100% of the test subjects had an increased rate of hair growth after 84 days.
The average increase in rate was 30% with a high of 99%. All subjects saw the rate increase the longer they used the products.
Contents: (approximately 1 week supply with daily use) :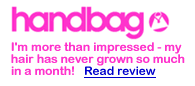 1x Fast Hair Growth Conditioner SLS/ Paraben Free (60ml/2oz)
Testimonials:
Fiona Embleton, Top Sante Beauty Editor: "I've used it for a month and my hair has grown a healthy one and half inches."
Nic Hopkirk, MSN Beauty Editor: "I've been using Fast Shampoo and Conditioner daily for the past month and have seen great results. In that time my hair has grown 2.3cm, when it would normally grow around 1.5cm. I have also seen the added benefit of softer, shinier hair."
View All
Close